Introduction
I am a Steward is a promotional campaign for the AdventistGiving app. The campaign will increase awareness of the AdventistGiving App and grow viewers understanding of stewardship by using personal stories. The I am a Steward series of 24 videos emphasize the different aspects of stewardship. I am a Steward is a creative expression of redemptive grace and means that every dimension of who you are reflects Whose you are; physically, emotionally, mentally, spiritually, and financially. This series will equip and inspire the church by providing them with visuals that communicate stewardship through real-life stories.
Please use these tags on social media: #iamasteward, #adventistgiving, #nadstewardship, and #nadadventist to post/tweet about the I am a Steward videos.
Download I am a Steward Videos
Visit our Vimeo album to download the I am a Steward videos. Check back often to download the new videos as they become available.
Atlantic Union
Columbia Union
Lake Union
Mid-America Union
North Pacific Union
Pacific Union
Southern Union
Southwestern Union
Seventh-day Adventist Church in Canada
Article for reprint and reuse
Download and reprint this article by Diana Smith about I am a Steward and the AdventistGiving App.
Title: "Leaning in to Stewardship"
Subtitle: "How the AdventistGiving app is changing one millennial's view of mission"
Download pictures of Diana Smith here: picture 1 – picture 2
Sample letter to church pastors
Use this sample letter as a starting point for writing your own letter and sharing information about I am a Steward with your ministerial team.
Sample news articles for the conference newsletter
Want to write about I am a Steward in your newsletter but don't know what to say? Feel free to modify this article as much or as little as you would like. Download here.
Info Card (size: 8.5 x 3.75)
This two-sided card can be used to share information about the I am a Steward video series as well as the AdventistGiving App. Download here.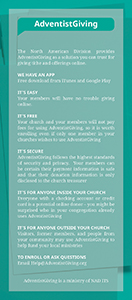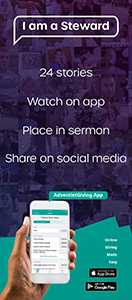 Print advertisements – I am a Steward
Several ad sizes are included in this package. Download all the print ads.
| | | |
| --- | --- | --- |
| 8.5×11 inches | 1/2 page vertical 3.375×9.25 | 1/2 page horizontal 7×4.5 |
| Back Cover 8.25×9.125 | Full Page with bleed 8.25×10.875 | Trimmed 4 sides 8×10.625 |
| 1/4 page 2 column vertical 3.375×4.5 | 1/4 page 1 column vertical 1.625×9.25 | 1/4 page horizontal 7×1.25 |
–>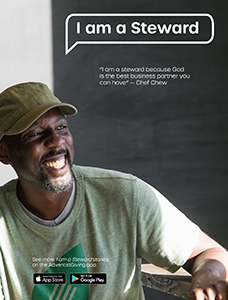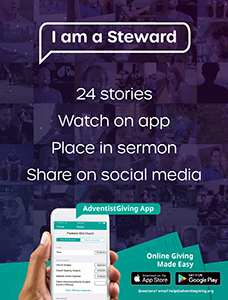 ---
Other AdventistGiving App Promotions
Share this video about the AdventistGiving app
Promo for AdventistGiving from Ohio Conference
Promo for AdventistGiving from Chesapeake Conference

Instructional How-to videos about AdventistGiving
Video from Ruben Casabona – English

Video from Ruben Casabona – Spanish

Video from Georgia-Cumberland Conference with Ray Hartwell

Adventist Giving from GCCSDA on Vimeo.
Share this article by Brennan Hallock AdventistGiving App Makes Tithes/Offerings Easier
Share this article by Kimberly Luste Maran Adventist Giving Announces Launch of Mobile App
Share this article by Richie Halverson The Adventist Giving App is a Game Changer!