August 5, 2023
Available Language(s):
AUTHOR:
Steve Case
At this time during our worship service, we typically collect money, whether that's cash or checks. Some people give each week as part of their worship to God. Others give once a month or once every pay period. Some give online, and still others do a combination, maybe planning in advance so they can participate at this moment rather than just reaching for some spare change or the customary dollar.
🏃🏻‍♂️This week we're going to add more options! We have a simple card for each person. You can fill this out now and put it in the offering, or you might choose to think about it longer and give it at the end of today's church service. (Ask for the cards to be distributed at this time. You will need to plan in advance to have these ready now. Two different versions of the card are available.)
The card lists the "4 T's" of what God has given us and asks us to give back to Him—Time, Temple (body/heart), Talent, and Treasure.
What will you give to God today? Whatever you check, you'll need to ask yourself the specific amount(s) and how you will do that. Use this card to communicate with God about your relationship with Him and your gift(s) today.
🏃🏻‍♂️Activity – print cards for August 5
(Choose one version of the card.)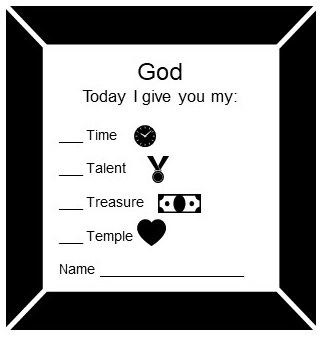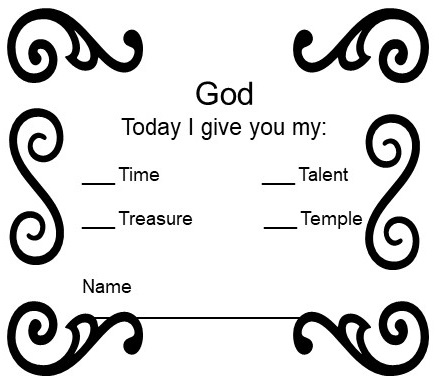 AUTHOR:
Steve Case
À ce moment du culte, nous collectons généralement de l'argent, qu'il s'agisse d'espèces ou de chèques. Certaines personnes donnent chaque semaine au moment du culte qu'ils rendent à Dieu. D'autres donnent une fois par mois ou à chaque paie. Certains donnent en ligne, et d'autres encore font une combinaison, peut-être en planifiant à l'avance afin de pouvoir participer à cette occasion plutôt que de fouiller ses affaires au dernier moment pour de la petite monnaie ou le dollar qui traîne.
🏃🏻 Cette semaine, nous allons ajouter d'autres options ! Nous avons une carte simple pour chaque personne. Vous pouvez la remplir maintenant et la mettre dans l'offrande, ou vous pouvez choisir d'y réfléchir plus longtemps et la donner à la fin du service religieux d'aujourd'hui. (Demandez que les cartes soient distribuées à ce moment-là. Vous devrez vous organiser à l'avance pour qu'elles soient prêtes maintenant. Deux versions différentes de la carte sont disponibles).
La carte énumère les « 4 T » de ce que Dieu nous a donné et nous demande de lui rendre – Temps, Temple (corps/cœur), Talent et Trésor.
Qu'allez-vous donner à Dieu aujourd'hui ? Quoi que vous cochiez, vous devrez vous demander quel(s) montant(s) spécifique(s) et comment vous allez vous y prendre. Utilisez cette carte pour communiquer avec Dieu sur votre relation avec Lui et sur votre/vos don(s) aujourd'hui.
🏃🏻‍♂️ Activité – imprimer des cartes pour le 5 août:
(Choisissez une version de la carte.)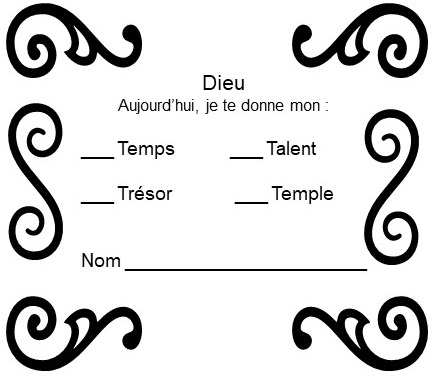 AUTHOR:
Steve Case
Neste momento, durante o nosso culto, normalmente coletamos dinheiro, seja em efetivo ou em cheques. Algumas pessoas dão a cada semana como parte de sua adoração a Deus. Outros dão uma vez por mês ou uma vez a cada período de pagamento. Alguns dão on-line e outros ainda fazem uma combinação, talvez planejando com antecedência para que possam participar neste momento, em vez de apenas buscar alguns trocados ou o costumeiro real.
🏃🏻‍♂️Esta semana vamos adicionar mais opções! Temos um simples cartão para cada pessoa. Você pode preencher isso agora e colocá-lo na cesta de oferta, ou pode optar por pensar mais sobre isso e entregá-lo no final do culto de hoje. (Peça que os cartões sejam distribuídos neste momento. Você precisará planejar com antecedência para tê-los prontos agora. Dois diferentes opções no cartão estão disponíveis.)
O cartão lista os "4 Ts" do que Deus nos deu e nos pede para Lhe devolvermos  – Tempo, Templo (corpo/coração), Talento e Tesouro.
O que você vai dar a Deus hoje? O que quer que você assinale você precisará se perguntar o(s) valor(es) específico(s) e como você fará isso. Use este cartão para se comunicar com Deus sobre o seu relacionamento com Ele e o seu(s) presente(s) hoje.
🏃🏻‍♂️ Atividade – cartões de impressão para 5 de agosto:
(Escolha uma versão do cartão.)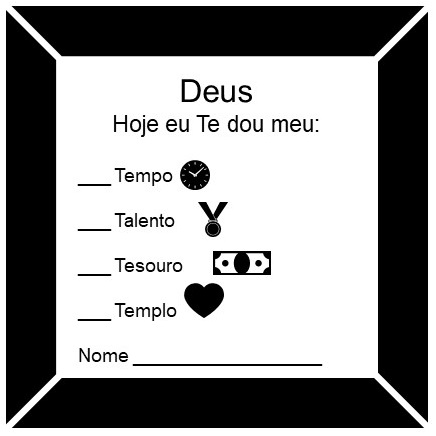 AUTHOR:
Steve Case
En este momento de nuestro culto, solemos recoger dinero, ya sea en efectivo o en cheques. Algunas personas dan cada semana como parte de su adoración a Dios. Otros dan una vez al mes o una vez cada vez que cobran. Algunos dan sus ofrendas de manera virtual, y otros hacen una combinación, tal vez planificando con antelación para poder participar activamente en este momento, en lugar de buscar algunas monedas de vuelto que quedaron en el bolsillo.
🏃🏻‍♂️Esta semana, ¡vamos a brindar más opciones! Tenemos una sencilla tarjeta para cada uno. Usted puede completar esta tarjeta ahora y ponerla en la ofrenda, o puede elegir pensarlo un poco más y darlo al final del culto de hoy. (Pida que las tarjetas se repartan en este momento. Deberá planificar esto de antemano para tenerlas listas en este momento. Hay dos diferentes opciones en cada tarjeta).
La tarjeta enumera las cuatro cosas (o 4 T) que Dios nos ha dado y que nos pide que le devolvamos: tiempo, templo (cuerpo/corazón), talento y tesoro.
¿Qué le dará hoy a Dios? Sea que fuere que usted marque, tendrá que preguntarse la(s) cantidad(es) específica(s) y cómo lo hará. Utilice esta tarjeta para hablar con Dios sobre su relación con Él y sobre el regalo que entrega hoy.
🏃🏻‍♂️ Actividad – imprimir tarjetas para el 5 de agosto:
(Elija una versión de la tarjeta).